36th Annual TEC Awards Nominees
---
The TEC Awards is a year-round celebration that recognizes and celebrates the individuals, companies and technical innovations behind the sound of recordings, live performances, films, television, video games, and multi-media. This year, the awards will be part of the online event, Believe in Music Week. You can find the full list of the nominees below.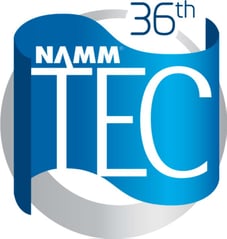 The TEC Awards committee and the National Association of Music Merchants (NAMM) just announced the nominees across the 22 Technical Achievement and 7 Creative Achievement TEC Award categories!
Over a thousand products and projects were considered, and the final nominees represent those that, in the opinion of the nominating panel, represent superior accomplishment in their respective fields. Nominees include products and technologies from the likes of well-established brands, including Avid, JBL, Native Instruments, Pioneer, Roland, Yamaha and others, and emerging companies such as Spitfire Audio, Soyuz Microphones, and United Studio Tech making the list.

"Often disruption is a catalyst for innovation and inspiration, and while no one could have predicted the challenges of this year, each of the nominees has contributed new advancements to the industry which continues to raise the bar for audio and sound production," said Joe Lamond, NAMM President, and CEO.

Presented annually as a part of The NAMM Show, this year, the TEC Awards will join Believe in Music Week, held the week of January 18, 2021, where the winners of each category will be announced and honored.
Other notable changes include the discontinuation of the Audio Education Technology category, with entries moving to either the Audio Application or Software categories, and a temporary pause to nominations for the Tour Event Sound Production category until live touring can resume.
These are the nominees in the categories of Outstanding Technical Achievement:
Amplification Hardware/Studio & Sound Reinforcement
Audio Apps & Hardware/Peripherals for Smartphones & Tablets
Computer Audio Hardware
DJ Production Technology (Hardware/Software)
Headphone / Earpiece Technology
Large Format Console Technology
Microphone Preamplifiers
Microphones - Recording
Microphones - Sound Reinforcement
Musical Instrument Amplification & Effects
Musical Instrument Hardware
Musical Instrument Software
Production Essentials
Signal Processing Hardware
Signal Processing Hardware (500 Series Modules)
Signal Processing Software (Dynamics/ EQ/Utilities)
Signal Processing Software (Effects)
Small Format Console Technology
Sound Reinforcement Loudspeakers
Studio Monitors
Wireless Technology
Workstation Technology/Recording Devices
These are the nominees in 7 categories of Outstanding Creative Achievement:
Film Sound Production
Interactive Entertainment Sound Production
Record Production/Album
Record Production/Single or Track
Remote Production/Recording or Broadcast
Television Sound Production
The TEC Awards will also honor two individuals for their contributions to music and recording. Soon to be announced, an honoree who embodies the creative, innovative, and enterprising spirit of Les Paul will be honored with the Les Paul Innovation Award. Past Les Paul recipients include Joni Mitchell, Peter Frampton, Joe Perry (Aerosmith, Hollywood Vampires), Slash (Guns N' Roses), Don Was (Was, Not Was), Lindsey Buckingham (Fleetwood Mac), Pete Townsend, Stevie Wonder, Todd Rundgren, and others.
The NAMM TEC Hall of Fame, which was created nearly 30 years ago to honor the industry's most pioneering producers and audio recording professionals, will again induct an industry luminary to its list of honorees. Past recipients include Herb Trawick and Dave Pensado, Leslie Ann Jones (Skywalker Sound), Jack Douglas (Aerosmith, Miles Davis), Skunk Baxter (Steely Dan, Elton John), Ed Cherney (Eric Clapton, Bob Dylan), and others.

Voting for the 36th TEC Awards will begin November 19, 2020. Additional information can be found at TECAwards.org
Congratulations to the NAMM TEC Award Nominees!


Topics: Audio Software, Awards, Film, Cinema, Sound for Film and TV, Audio tech, Tec Awards, NAMM